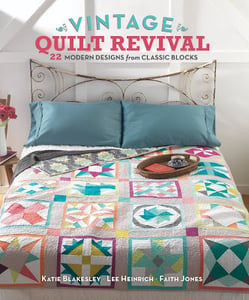 $

27.99
Vintage Quilt Revival is a wonderful resource for quilters of all backgrounds! It features instructions for creating 20 different traditional blocks, and 19 projects that use at least one of the blocks in an innovative and beautiful way.
Use the blocks on their own--as part of one of the 3 sampler quilts, for swaps, quilting bees, and your own designs.
Enjoy making large and small quilts, a zippered pouch, table runner, bag, and a pillow with unique, fresh layouts. There are detailed instructions on foundation paper piecing and partial seams, and projects for all ability levels.
Come learn a bit about quilts of the past in this book, at the forefront of the "traditional made modern" movement!
160 Pages with CD
The book includes a bookplate signed by all 3 authors and is available to U.S. buyers only. It includes FREE SHIPPING. 160 pages.
Authors: Katie Clark Blakesley, Lee Heinrich, and Faith Jones
Published by Interweave
SKU: 13QM04-EP5489-GROUPED
ISBN 13: 9781620330548