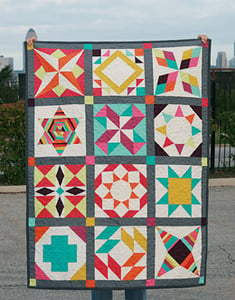 $

9.99
The Summer Sampler Series Anthology is based on the Summer Sampler Series, the popular online quilt-along hosted by Katie Blakesley (www.swimbikequilt.com), Faith Jones (www.freshlemonsquilts.com) and Lee Heinrich (www.freshlypieced.com).
This 86-page PDF booklet collects all of the information from the quilt-along into one convenient package, plus offers some exclusive PDF-only bonus content.
This PDF includes:
• Detailed instructions for making 12 quilt blocks
• Almost 150 step-by-step photos that demonstrate how to piece the blocks
• 11 pages of paper-piecing templates
• Helpful tips for making piecing and cutting easier
• Design hints for varying the look of your blocks
• Photos of the blocks in other colorways
• A discussion of various design options for finishing your sampler quilt top
• Photos of finished Summer Sampler quilts and other projects that use the blocks
• Exclusive PDF-only content such as a mini-lesson in value and color placement
The skills you will learn/practice while making these blocks include: half-square triangles, flying geese, bias piecing, paper-piecing (basic and advanced), piecing equilateral triangles, piecing diamonds, hourglass units, and string piecing.
TEACHERS, SHOP OWNERS, AND GUILDS:
Would you like to teach the Summer Sampler Series as a class, or run it as a block-of-the-month series? Purchasing copies of the Summer Sampler Series Anthology for all of your participants gives you full permission to teach the series publicly, and we offer discount pricing on the purchase of four or more copies. Contact us for more information.